By Rabab Mardini ASD Alumna Class of 2014
The American School of Doha (ASD) is committed to sustaining a legacy of academic excellence.  Testament to this legacy are the results achieved in the recent International Baccalaureate (IB) and Advanced Placement (AP) examinations completed in May of 2019.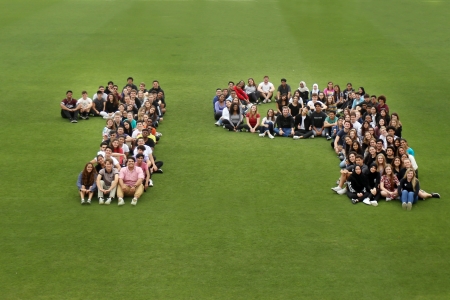 The Director of the American School of Doha, Dr. Tom Hawkins, stated, "ASD students set historically high records across both externally graded programs, and we are proud of the hard work the students, teachers, and the school, in partnership with parents, to be able to achieve such results.  High School Principal, Michael Roberts, and his whole team were able to ensure the students were motivated and supported to achieve exceptional results. These results are truly a fantastic testament to the legacy of academic excellence at ASD."
The AP program broke school records with 85% of students achieving a 3 or higher, with a record average exam score of 3.64. This year, 246 ASD students, ranging from grade 10 to grade 12, completed a total of 441 AP exams across the 17 different AP courses ASD offers. All 17 AP courses achieved above US and Global averages for the first time in ASD history.
"ASD is currently the only school in Qatar to offer the AP Capstone Diploma Program (AP Research + AP Seminar). Despite its relatively new presence in the High School program of studies, 35% received a perfect score, and the entire group achieved a median score almost a full point above world averages on the 5 point qualification scale." – Nathaniel Hayes, HS Social Studies Teacher. 98% of our AP Capstone candidates gained qualification.
In 2019, full IB Diploma students achieved an average score of 35 points, the highest score in ASD's history, and 5 points higher than the world average. Further, ASD achieved its highest IB Diploma pass rate of 98%, with 34% of students earning 37 points or higher and 16% earning 40 points or higher. "The students' level of engagement from this cohort truly enhanced their learning, enabling them to increase their performance. And the amazing sense of community in the classroom meant students always had a peer on hand for additional help or another perspective to explore." – Lisa Crook, HS English Teacher.  The graduating class of 2019 was made up of 169 seniors, of whom 132 sat at least one IB course examination; 50 seniors were candidates for the full IB diploma. In total, 507 IB exams were taken by ASD seniors.
With ASD representing over 80 different nationalities, we inspire all students to become active global citizens. 2019 was the first year that students sat the IB Global Politics examination, with 24 out of 25 students achieving a score of 4 or greater. In addition, a record of four bilingual diplomas were awarded to ASD students. One of the hardest courses the IB program has to offer is IB HL History, and "ASD's IB HL History students performed well above world averages, scoring a mean of 5.5 in HL, 50% of ASD HL History students scored a 6 or above, compared with 12% of students worldwide." – Kari Robertson, HS Social Studies Teacher
The consistency of ASD's growing academic achievement comes from a committed and knowledgeable community, who are dedicated to helping students choose the program and/or courses that fit their individual needs and goals.  "High school teachers, students, parents and the entire school community are to be commended for their efforts to support the collective goals of the high school. Over the past three years, enhancements in data gathering and analysis, and supporting systems have improved our students' capacity to succeed in external examinations and gain entrance to the colleges and universities of their choice." – Michael Roberts, HS Principal